Generic Theater for Kids is an acting school for children ages 5 thru 18. Generic Theater for Kids was established in 2012 by Judy Ziegler to introduce young people to the theater and the enjoyment of being on stage and in front of a camera. During the school year, classes are offered on Saturdays in acting, musical theater and acting for TV and Movies. After each session, students perform a play or musical and every student has a speaking part in the show. All parts are played by students, performing on stage. GTK also runs two-week theater camps during the summer. Currently classes and camps are held at 212 College Place in downtown Norfolk and shows are performed on ODU University Theater stage with technical lighting, sound and staging personnel and equipment, and staff and volunteers offering students a great theater experience.
Acting for TV and Movies programs use the professional cameras, sound and lighting equipment of Nova Marketing Media and students are videotaped doing sample TV commercials and acting in a movie, which they receive professionally edited after the course.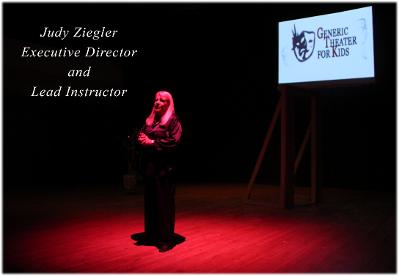 Judy Ziegler is Executive Director and lead instructor for Generic Theater for Kids. She was a professional actress in musical theater, summer stock, movies and voice-over work, as well as a singer, performer with Jimmy Durante and a modeling and dance instructor in Chicago. Locally, she has directed at the Generic Theater and acted at Little Theater of Virginia Beach.
Judy was a children's theater teacher and director in Virginia Beach for 10 years, choreographer for musicals at Cox High School and staged children's shows at Summer Shakes. In 2012 she established Generic Theater for Kids. She currently also owns Nova Marketing Media, a video production company which produces TV commercials, web videos, sales videos, infomercials, and TV series pilots. And teaches Drama and Video production at Roadstead Montessori High School in Norfolk.